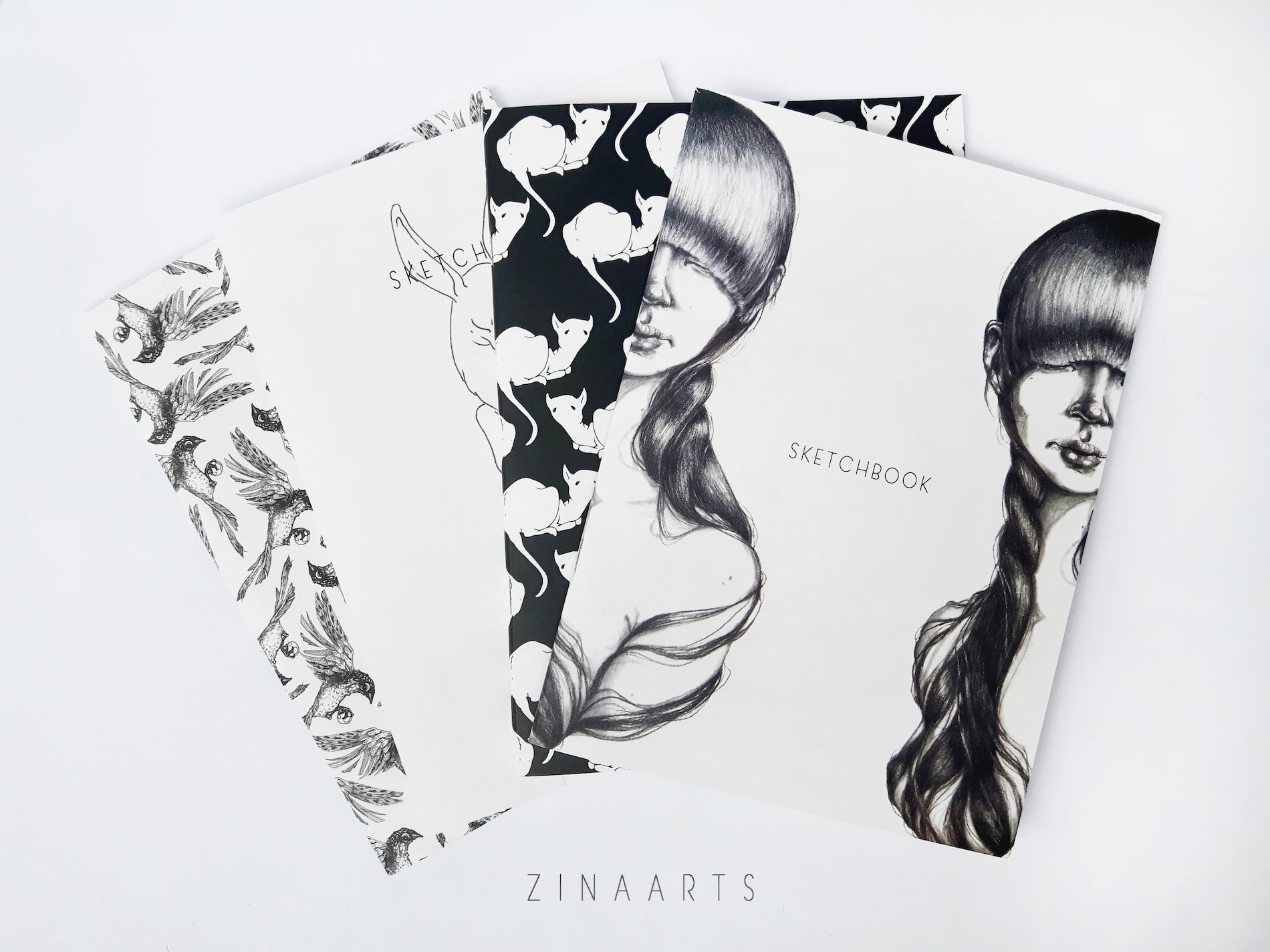 Zina Arts: Packaging Art with Love
"Great packaging gives a more complete look to a product, and definitely prepares a customer for something made with love, just for them." Zina Nedelcheva, Founder.
By noissue — 02 July, 2019
For unique artworks, presentation is everything. Customers increasingly expect thought and care to go into every part of the design process, including the packaging! We spoke to graphic artist and designer Zina Nedelcheva about the strange and fantastical world of Zina Arts, and how her custom tissue paper and custom stickers helped bring it to life.

"My name is Zina and I am a Plovdiv (Bulgaria) based artist. In 2012, I got my Masters Degree in graphic arts. After that, I was supposed to quickly find myself a job to pay the bills. But I figured that if I did that, after a while I might sink into this world of working in an office 9-5 with no time for my art. So, I decided to stay true to my art and give it some time to see if it was possible for me to make it my full-time job. That is how Zina Arts came to be!"

For Zina, this was the beginning of a weird and wonderful world of art and design. She now runs a successful Etsy store, where she sells jewelry, stationery and assorted artworks. Most distinctive of all are her handmade 'Bunndolls', a part-bunny, part-human hybrid that she originally created to keep her company whilst working on her art. With their quirky appeal, they have quickly become mainstays in her product range (as well as a faithful mascot!)

"Zina Arts is a result of my imagination, and it contains everything that is fabulous, strange and unusual. The spirit of this world can be revealed in clothing (my recent brand collaboration "Pesto & Avocado"), jewelry, dolls, paintings, accessories, etc. Every single creation is made with attention to detail, love, and inspiration so that it gives mood and individual style to the recipient."


Sustainability

As a member of noissue's Eco-packaging Alliance, sustainability is an important issue for Zina Arts. As a single-person operation, Zina also has the advantage of being able to control each step of the production process to minimize waste as much as possible:

"For me, sustainability is a very important part of what I'm trying to do. But it hasn't been easy. Not everything is in my hands. I try to make my products entirely by myself, and then try it out for some time to see how it handles everyday use. If it doesn't handle it well, then it's not a sustainable product. Through time, I've become better at working on different shapes and with different materials, but there are products that need to be finished by someone else. Despite my efforts, sometimes I don't have all that's necessary for the product to be finished."

Pro tip: Having an eco-alliance badge on your site is a fantastic way to show your customers that you are serious about sustainability! For every order of custom tissue, custom stickers or mailers that you place, we will plant a tree in a deforested area. For more information about noissue's eco-alliance, click here.

Creating a great customer experience with custom packaging

For eCommerce brands, it can be challenging to form a relationship with customers during the sale process. This is why the moment of delivery offers the best opportunity to make a memorable impression - it's the first time that customers will have a tangible interaction with your brand.

By having such a clear brand identity, Zina wanted to ensure that the unique appeal of Zina Arts was prominent in every interaction with her customers. Designing her own custom tissue paper and customized stickers offered a way for her to give customers a more well-rounded brand experience:

"I've always paid attention to the way a product is packed. It doesn't have to be complicated, but just right and with everything in place. Great custom packaging gives a more complete look to a product, and definitely prepares a customer for something made with love, just for them. It gives me pleasure to see how other people react to their order, all wrapped up in my custom tissue paper - so far, they love it! It's rewarding for me, and for them."

Pro tip: Custom packaging is a fantastic way to tie together your narrative by channeling an 'unboxing' style-brand experience, which helps to drive customer loyalty and increase perceived value. You can read more about how to create a memorable unboxing experience on our blog!

By taking a completed design from the cover of one of her own sketchbooks and uploading it to noissue's offline design tool, Zina was able to implement her branding across her materials. The striking monochrome bird design of her custom tissue paper is a brilliant reflection of the aesthetic that is much-loved by her customers base, and serves to keep Zina Arts cohesive and recognizable:

"I try to stay true to what I would most like to present to people, and I try to show things through my own way of seeing. This usually means that my designs reflect what I myself would like to use or wear. Everyone has a wonderful and unique presence, and should make sure the rest of the world can see it!"