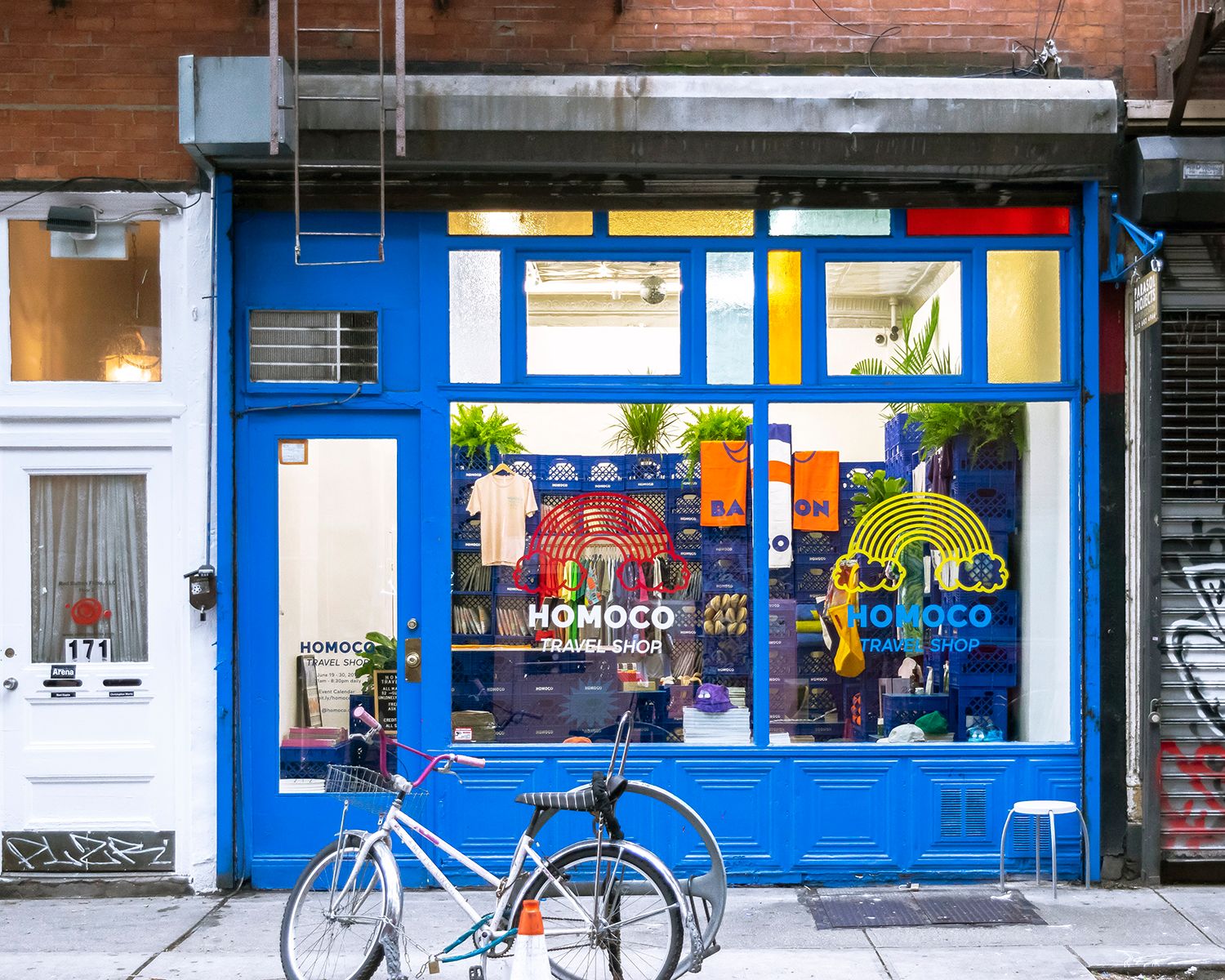 HOMOCO: Custom Packaging Solutions for Pop-up Store Retailers
"Today's HOMOCO is me bringing that family brand back and embracing my queer community at the same time." Daniel DuGoff, Designer and Founder.
By noissue — 22 August, 2019
In case you hadn't noticed, pop-up stores are all the rage in 2019. With everyone from independent retailers to major players like Nordstrom testing out the trend, it's clear that temporary retail spaces are having a moment. In fact, the pop-up industry is estimated to worth more than $10 billion!

In a time where the traditional brick and mortar retail sector is struggling, the growth of pop-up stores marks an interesting development. Contrary to physical retail completely dying off in the face of eCommerce, pop-ups show that consumers are craving more immersive brand experiences.

Best of all, it's boutique retailers that are set to benefit the most from this shift. According to a poll by PopUp Republic, over one-third of consumers list 'finding new and unique products' as their key reason to shop at pop-up stores.

For independent retailers who are eCommerce-based, pop-ups offer a fantastic opportunity to dip your toe into the world of brick and mortar retail. You get to introduce yourself to new audiences and create a buzz around your brand, but without the high overheads that come with renting spaces longer-term.

Introducing: HOMOCO

Switching from being an eCommerce-only brand to a pop-up retailer might seem like a big leap. But Daniel DuGoff, the founder of summerwear brand HOMOCO, successfully made this transition by ensuring that the whole concept stayed on-brand. He tells us about HOMOCO's mission to be inclusive and sustainable, and how custom-branded packaging helped keep their brand identity the centerpiece of their store:

(In Daniel's own words):

"I'm Daniel – I was born in DC, grew up in Maryland, studied architecture in St. Louis (and briefly in London) and have been working as a menswear designer in New York for nine years. I love figuring out how to make things, which is probably how an architecture education led me into fashion.

"HOMOCO exists for a lot of reasons. It's a name I grew up with: my great-grandparents had a gas station chain around DC called Homes Oil Company. It used the shorter name "HOMOCO" on the signs and trucks. My grandparents took the business over from my great grandparents, and my dad took over the businesses from his parents. That business closed in the mid-1990s, when I was in elementary school. Today's HOMOCO is me bringing that family brand back and embracing my queer community at the same time."

"Today, HOMOCO stands for a lot of things. The brand proposition is that there should be a brand for all queer people. A lot of brands for gay people aren't really for "all" gay people. They're expensive and elite, or they're dripping in sex and feel cheap. HOMOCO's aim is to include as wide an audience within the LGBTQIA+ community and the community's supporters. That means being intentional about our sizing, our prices, our tone of voice as a brand, and the images we use. HOMOCO holds itself to high standards. We're passionate about sustainability and philanthropy. We can't just take – we have to be responsible, we have to give back. We work with queer artists, our campaigns are shot by queer photographers. It's a brand that's mission-driven in every way. But we aim to do it in a way that doesn't feel preachy. HOMOCO is a super fun summer brand that you can feel good about."

On being a sustainable retailer:

"Every component we source has to be the most responsible choice available, whether that means it's made from recycled materials or is organic or some new technology. Our swim trunks are made from recycled plastic bottles and our printed shirts are made from Tencel, which is a sustainable super-fabric. Rather than individually packaging our products in disposable plastic bags, we use re-usable zipper pouches that customers can keep using."

"We tell the story of our supply chain online (where we sell), through social media, on the product tags, on the packaging - wherever we can. It isn't something we hammer over our customers' heads, but we make the information available if someone wants to know more. I feel like it's a given that brands should be sourcing this way. It's part of the bigger story for HOMOCO."

"It's also something that we're constantly looking to be better with - there're constantly new materials, better options, smarter choices. One of the most exciting parts of my job is improving the products by working with smarter materials."

Pro tip: Your packaging design plays a very important role in your overall sustainability strategy. Not only will consumers be taking note of the materials you use; it's also where they are likely to look for information about your business practices! So, if sustainability is one of the cornerstones of your brand image, it's vital that you have a sustainable packaging design to match.

Why pop-up stores are the next step for independent retailers

It's not surprising why eCommerce is the fastest-growing retail channel. For one, the barriers to entry are extremely low. Anyone can use a platform such as BigCommerce to build their very own site and get selling, without the high overheads which make physical stores such a mission to get off the ground.

Yet eCommerce does have its downsides. The flipside of this ease of access is an extremely crowded marketplace! In the case of HOMOCO, the inability of consumers to interact with a product before buying is also a disadvantage. For David, pop-up stores served as a way to plug this gap between the online and offline experiences:

"HOMOCO is a direct-to-consumer brand. We sell mostly online, which is essential to keeping our prices low. Online means our customers have to buy something before they can feel the fabric. When you say "this is made from plastic water bottles!" people naturally want to know if it feels like a plastic water bottle (It doesn't! It feels like the best stretchy, quick-dry swim trunk you've ever felt!)."

"We launched in the summer of 2018 with a pop-up and did a couple of trunk shows in summery beach towns to introduce ourselves. These were super-important moments for the brand, and we learned a ton about what our customers are looking for from a queer summer brand."

"For our second summer, the goal was to create a fully-branded HOMOCO shop that would instantly put us in context. We introduced ourselves in 2018, and this made 2019 our opportunity to show what our world looks like. So we opened a two-week shop in Nolita, NYC called the HOMOCO Travel Shop!"

A successful pop-up shop is about more than simply having a physical space to display your products. It's about providing an immersive experience that makes you memorable. To create a buzz around your brand, you need to consider how best to showcase the values that make you unique.

For David, HOMOCO's pop-up is about providing experiences that help the brand to better connect with customers:

"The HOMOCO Travel Shop was a one-stop-shop for the perfect beach weekend. We had everything HOMOCO from our ecommerce site in real life. We also had everything else you'd need – beach bags, towels, shoes, grooming products from partner brands. The shop had six other retail brands, thirty magazine titles (donated, selling for charity), and three beverage brands (for free!). We did events every day the shop was open, ranging from happy hours to poetry readings to manicures."

"The "context" for HOMOCO goes in two directions. It's the other brands that complement what we're doing (which were mostly queer-and/or women-owned businesses) AND it's the community that engages with the products. The programming brought in focused groups of people each day, allowing us to share our story with new audiences in an intimate setting."

How to bring custom packaging into your pop-up store

Custom-branded packaging is a fantastic investment for pop-up stores. In temporary retail, getting your brand identity out there is vital if you are going to turn first-time customers into repeat business. Custom packaging stays with the customer right up until they return home and open their purchase, giving you a much longer window for engagement. This creates a much stronger strategy for building brand recognition.

Moreover, custom packaging is an easy way to add extra value to your offerings: For David, using custom tissue paper with the HOMOCO logo was a way to enhance the brick and mortar experience, as well as showcasing their commitment to sustainability:

"The time-frame for the shop was quick – one day to set-up, open for two weeks, one day to break it all down. But we still wanted every bit of the shop to feel branded, from the fixtures, which were made from milk crates branded with the HOMOCO logo, to the custom tissue paper that we use to wrap every purchase. Having custom tissue paper was the perfect finishing touch. It's something high-end shops do regularly, but to have it in a temporary store was incredibly special."

"We chose noissue because we have the same goals in terms of product sustainability. Not only does noissue make extremely high-quality packaging, but they do it without sacrificing sustainability. Being able to completely customize the packaging and receive production on a tight timeline was incredible. noissue made it so easy!"

Want to read more about how to put together a successful pop-up store? Check out our article from Storefront!