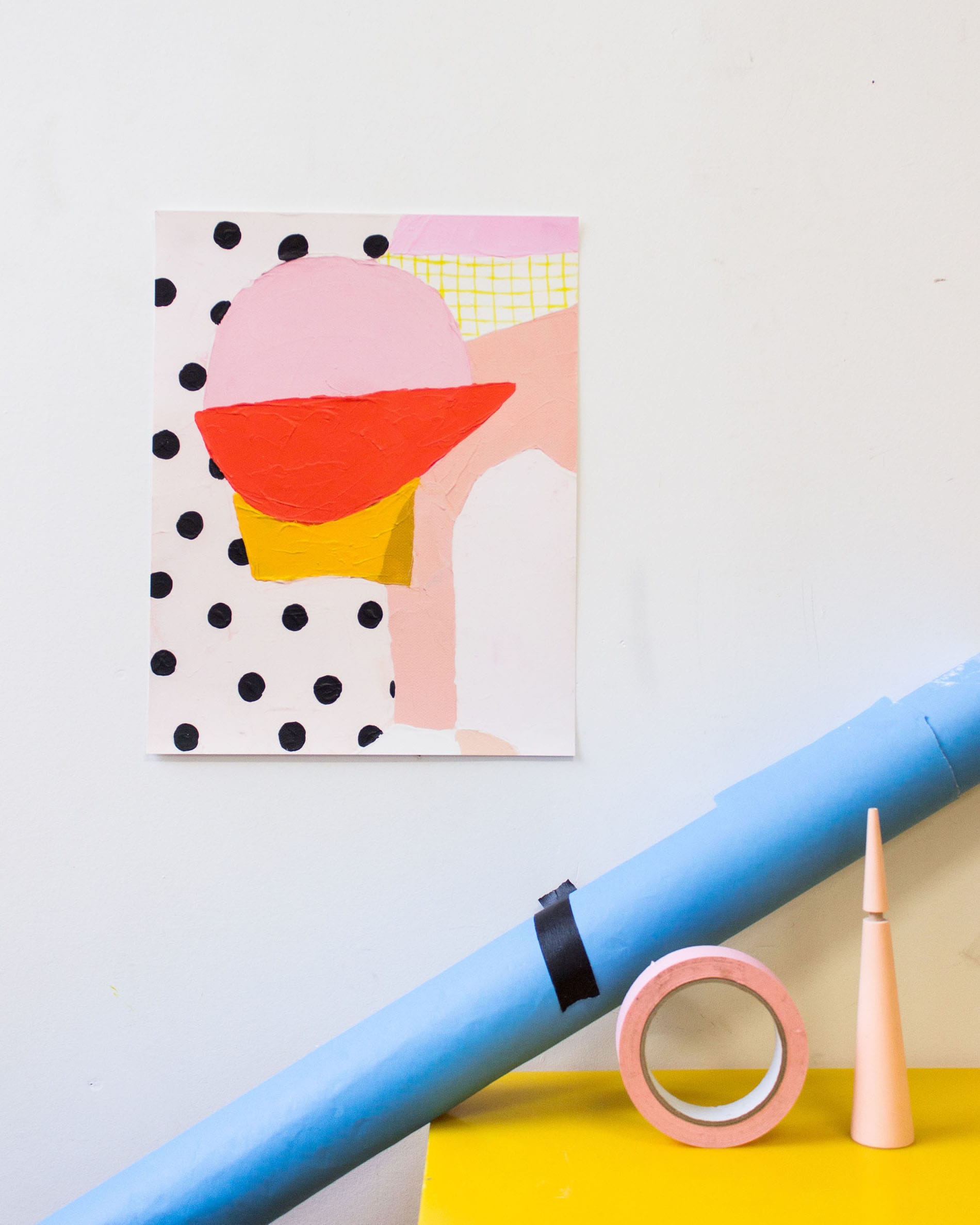 Ashley Mary Art: How Creativity Feeds Sustainable Business
"Whenever I open something customized it speaks to the level of professionalism, care, and just makes the experience more fun!" Ashley Mary, Artist and Founder.
By noissue — 17 July, 2019
In 2019, sustainability is playing an increasingly big role in being a responsible retailer. Showing that you are making an effort to reduce waste and keep your carbon footprint low isn't just good for the planet - it's good for business too! As more and more consumers want to support brands with eco-friendly practices, putting effort into this area will benefit you in more ways than one. To help provide some inspiration, we speak to artist Ashley Mary about her everyday efforts to be sustainable as a creative.

"I am a painter, muralist, and designer based out of Minneapolis, Minnesota. I work out of my studio in the arts district of NE Minneapolis. My pup Ren is with me most days there! My time is spent on acrylic paintings, mural installations, and product design/collaborations. When I'm not working, I love spending time outside. I'm a big runner and love to travel. Running when I travel is just about my fav way to explore a new city. I love interior design and thrifting, and am always on the hunt for pieces to transform my space with."

"I started painting out of college. Though I studied religion in my undergrad, I got really interested in collage art, using vintage ephemera to create little stories. That slowly transitioned into painting abstract. I went back to school where I got my Masters in graphic design from MCAD, and that's where I was really able to start transforming my studio art into other things like surface and spacial design. My process is an exploration of shape, color, pattern, collage. I focus on bright colors, thick textures, balance and a sense of playfulness in my work."

As well as her impressive murals which feature across the United States, Ashley has expanded her range into smaller art prints, stationery, and accessories which all reflect her bold patterns and style. The secret to consistency? Never finishing something before starting something else!

"My process inspires my designs, playing with college or just letting a painting exist in my space long enough to where it transforms through marks made a little bit each day until it's finished. I work on lots of pieces at once, and I think this informs how they all turn out. I'm not starting and finishing one painting at a time. They are all sort of made in one continuous cycle. I'm inspired by color combinations I see in the city or when traveling. I love old magazines and am continually inspired by their layouts, photography, and type."

A recognizable brand image is important for any creative to cultivate in their work, but there also needs to be room to grow in response to new inspiration and experiences. For Ashley, this approach is at the heart of her work to ensure that everything she creates is reflective of herself:

"I remain true to myself first and foremost, and what interests my eye. I'm a collector by nature. I surround myself with pieces that are interesting and inspire me. As long as I'm constantly being true to myself, my brand is consistent. So I don't have a "brand" per say; I'm just me. I tend to like the same things year after year with subtle changes as trends change, and I grow in my experiences. I am always gut checking my work and what I chose to focus on: is this me? Do I find joy in this? Does this feel authentic?"

As someone who gets through a lot of materials due to the nature of her business, Ashley is very conscious of finding ways to reduce her environmental impact. Not surprisingly, packaging features as a major source of waste through her work supplies, something which is difficult to address when it comes from higher up the supply chain. However, she has come up with a number of innovative ways to incorporate what many would see as 'waste' into her business activities:

"For me, sustainability is about not being wasteful and also being creative with what I already have. For example with packing, I save all the bubble wrap and paper from packages I receive to use in my next shipment. I reuse all my own shopping bags when guest purchase product from me. I save my cups from coffee shops to mix paint in when installing. I try to use up all my art materials as much as possible. I save all my paint from every mural installation to use on the next things I make. I purchase a lot of used canvases from thrift stores to paint on. And I thrift a lot of the larger pieces in my studio. I don't toss out things when they're done being used like brushes, rags, and palette cardboard mixing pieces. I save them to recreate something interesting down the road."

"I hate waste, and really try to be mindful with my impact. Some of it is unavoidable. My canvases always come wrapped in plastic, paint tubes have to be tossed. I wish you could buy paint in bulk, like you can with stuff at a grocery store. I'd love to be able to bring my own containers and refill them with paint!"

Pro tip: Reusable packaging is a fantastic way to reduce packaging waste. If you make it custom-branded, you will also increase brand recall in your customers! You can find more about eco-friendly packaging tips on our blog.
As well as eco-friendliness being important to her packaging design, the ability to make it custom-branded was also a priority for Ashley. As an artist, her work is her brand identity. So, having an extra canvas available for her art is a fantastic way for her to give customers that extra memorable experience.

noissue's custom tissue paper is acid-free and made with soy-based links, which makes it 100% recyclable. It's also FSC-certified, which ensures that the paper has been sourced sustainably with minimal environmental impact. Add custom branding into the mix, and you have the perfect eco-friendly packaging solution!

"I wanted my guest to receive customized tissue with their artwork or prints. It's a little touch that keeps things feeling fresh, interesting, and thoughtful. whenever I open something customized it speaks to the level of professionalism, care, and just makes the experience more fun!"